Praluent works by helping your liver get rid of more of the LDL or 'bad' cholesterol in your blood.
How do I take Praluent?
Praluent is injected under the skin using a dedicated injection pen. Your doctor or nurse will take you through the steps and show you how to inject.
You might feel a little anxious at first, but with the right training and support, most people become more confident and comfortable with injections.
If you have difficulties injecting yourself, a family member or caregiver can be trained to give your Praluent injections.
Watch the video for step-by-step injection guidance.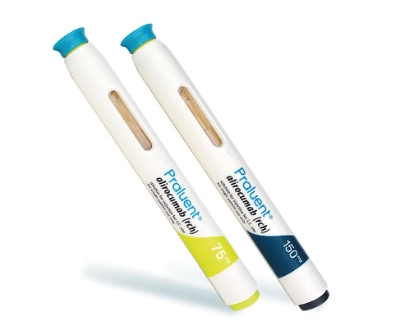 Praluent Quick Facts
Here are some important things to remember when taking Praluent
• Make sure your doctor or nurse has shown you (or a family member/caregiver) the correct technique before you inject Praluent on your own.
• Store Praluent in the fridge at 2–8°C.
• Use each Praluent pen only once, then dispose of it in a sharps container.
• Keep Praluent away from children.
• Follow the instructions carefully each time you inject Praluent.
• Tell your doctor if you are pregnant, intending to become pregnant, breastfeeding, or plan to breastfeed.
• Tell your doctor or pharmacist if you are taking, or have recently taken, any other medicines including prescription and non-prescription medicines.
• Tell your doctor, nurse or pharmacist as soon as possible if you don't feel well while taking Praluent. Read the Consumer Medicine Information leaflet and the Instructions For Use leaflet that came in your Praluent pen pack.
• Don't take Praluent if you have an allergy to alirocumab (the active ingredient in Praluent) or any of the other ingredients listed on the back cover of the Consumer Medicine Information leaflet included in your Praluent pen pack.
• Don't use Praluent if it has been out of the fridge for more than 30 days, has reached a temperature above 25°C, or has been exposed to direct sunlight.
• Don't touch the yellow safety cover on the pen.
• Don't use a damaged, dropped, or expired pen.
• Don't inject near a visible vein, or on tender, hard, red, or hot skin.
• Don't freeze, shake, or re-use the pen.
• Don't stop taking your Praluent or change the dose without checking with your doctor.
Looking for additional support?

Get additional support
from patient
organisations and others
that also have high LDL
cholesterol levels.


If you have any further
questions regarding
Praluent, you can
contact Sanofi Medical
Information.

The content of this website is not intended to replace the advice of your doctor. If you have questions about your condition or treatment, please speak with your healthcare team.